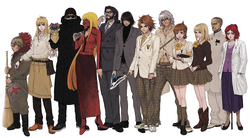 Angelegna
, or
Angelegna High School
, was a gag that was published in the Drag-on Dragoon 2 ~Memory of Blood~ materials book on November 25, 2005. It was a gag setting which put the DOD2 characters into a modern-day school setting and styled as a Japanese dating sim.
The Angelegna story made another appearance in the DOD 10th Anniversary -World Inside- book for the sake of nostalgia. All characters were drawn by series character designer Kimihiko Fujisaka.[1]
The characters were described as follows[2]:
Gallery
References
Ad blocker interference detected!
Wikia is a free-to-use site that makes money from advertising. We have a modified experience for viewers using ad blockers

Wikia is not accessible if you've made further modifications. Remove the custom ad blocker rule(s) and the page will load as expected.