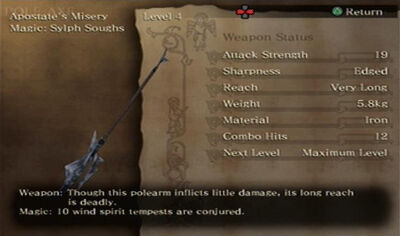 Apostate's Misery
is a weapon in the
Drakengard
.
Traits
Drakengard
Doesn't cause as much damage, but has a long reach.
Drakengard 2
With training, the wielder can deal a powerful blow.
Magic
Drakengard
Sylph Soughs: Summons powerful wind spirits that create wicked tempests that damage nearby enemies.
Drakengard 2
Found
Drakengard
KILL ALL the kid soldiers
on the map. You MUST traverse the WHOLE map to find them all.

Drakengard 2
Chapter 2, Verse 3 (Chest Item).
Combos
Drakengard 2
Weapon History
Level 1
There was once a wind spirit who fell in love with a mortal man. Though it was against all the laws of her race, each day she allowed her love and passion to grow.
Level 2
The spirit was condemned to death for the betrayal of her race. The Lord of Spirits sent vassals to carry out the sentence, armed with a bardiche enchanted to slay spirits.
Level 3
Sensing that her life was in danger, the spirit made one last visit to the man she loved, then fled through the forests and seas and mountains, pursued all the while by her would-be executioners.
Level 4
Some years later, a healthy young boy was seen playing around the village. This remarkable boy could control the very winds. His father never told him who his mother was...
Level 1
The young man was popular with everyone in the village. He had the ability to control the wind, and was often seen flying over rivers and valleys. He was a cheerful boy, though he always seemed be troubled by something.
Level 2
Several years later, his father passed away. Before he died, he told his son about the young man's mother, whom his son had learned never to mention in his presence.
Level 3
"Go to the place marked on the map." said his father. As if guided by a spirit, the young man took up his scythe and left, carried by the wind.
How long had he been traveling? Over the forests, oceans and mountain Ranges he flew. Exhausted and frail, He came at last to a village.
Level 4
The chief of the village welcomed the young man and told him that the scythe he was carrying had once belonged to the village. Just then, a beautiful woman entered the room. The young man knew at once that she was his mother. From that day forth, he helped keep peace between humans and wind spirits. The scythe was never used again.
Ad blocker interference detected!
Wikia is a free-to-use site that makes money from advertising. We have a modified experience for viewers using ad blockers

Wikia is not accessible if you've made further modifications. Remove the custom ad blocker rule(s) and the page will load as expected.