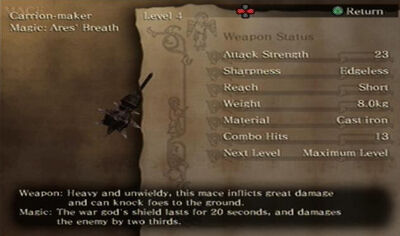 Carrion-maker
is a
mace
weapon in the
Drakengard
.
Traits
Drakengard
Carrion-maker causes decent amounts of damage for a mace, and it will knock enemies to the ground when used.
Drakengard 2
Heavy Blows break the enemy's guard.
Magic
Drakengard
Ares' Breath: It provides a shield that lasts for a preset amount of time and damages enemies by one-third each time it touches them.
Drakengard 2
Found
Drakengard
Leonard's Regret, Verse 3
Kill ALL knights on the
furthest part of the map BEFORE killing all targets.

Drakengard 2
Chapter 5, Verse 6 (Chest Item)
Combos
Drakengard 2
Dragon's Dance
Dragon's Flight
Weapon History
Level 1
During the first moon, it smashed the legs of a hundred men, women, and children.
Level 2
During the second moon, it smashed the arms of a hundred men, women, and children.
Level 3
During the third moon, it smashed the heads of a hundred men, women, and children.
Level 4
During the fourth moon, nothing was left but a lake of blood and a mace dripping with liquefied flesh.
Level 1
The iron club was placed at the corner of the torture chamber. After prisoners had been subjects to every conceivable form of torture, it would make an appearance.
Level 2
With their bodies in mutilated ruins, victims longed for the iron club's fatal blow, and an end to the pain.
Level 3
From toothless mouths, they would wail, "The club! The club! Please, show me the club!" And, like a bloody angel, the iron club would come to answer their prayer.
Level 4
The weapon turned its victim into meat with a single crushing blow, then waited in silence for the next prayer.
Caked in flesh and blood, it came to resemble the bodies it violated.
Ad blocker interference detected!
Wikia is a free-to-use site that makes money from advertising. We have a modified experience for viewers using ad blockers

Wikia is not accessible if you've made further modifications. Remove the custom ad blocker rule(s) and the page will load as expected.