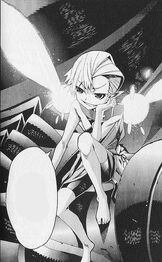 "
Yeah, stupid! Just like... Hey! Screw you, lady! Dirty little deviant, trollop intoner! You go to hell! You hear me!? You go to hell and you DIE!

— The faerie after being insulted by Zero

"
Faeries are a race of sprites that live in the Forest of the Seal with the elves. They are led by the Ruler of the Faeries
They are a race of winged humans, their size seemingly shrunk by many tenths. Their flapping wings glow green, their forms incredibly wondrous to see. However, contrary to this lovely exterior is an ugly disposition, someone who finds the greatest joy in abusing others with foul words. Usually, they carry out a communal lifestyle within the forest, but this does not necessarily mean that they have any sort of rules, as they are each free to move wherever they like of their own will. Also, while outwardly they all appear to be male, as they are hermaphrodites, they do not make distinctions between the sexes.
While they're originally of a very cheerful nature, they're also incredibly exclusive, and dislike humans because "They smell bad". Again, with their fragile appearance, one would never imagine how stubborn they are, to the point that they would not falter even before a dragon.
Known Faeries
Ad blocker interference detected!
Wikia is a free-to-use site that makes money from advertising. We have a modified experience for viewers using ad blockers

Wikia is not accessible if you've made further modifications. Remove the custom ad blocker rule(s) and the page will load as expected.