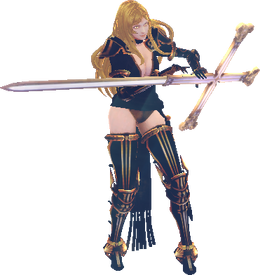 Five's Spear
is a weapon in
Drakengard 3
.
Traits
Drakengard 3
Found
Drakengard 3
Combo
Drakengard 3
Weapon History
Level 1
Life is grand. Who could ever be bored in this world? Anyway, I'm Five, which means I have five elder sisters. And there are five things I want in this life.
Level 2
I want everything Zero has. She's so strong and beautiful! And I also want One's intelligence. Might as well take it while I'm in the taking business, mmm?
Level 3
I'll take Two's blinding smile as well. Why not? And Three has those nimble little fingers... Oooh, I'd put those to some veeery good uses!
Level 4
And Four? Hmm, Four... Well, I suppose there's that one little thing I could take from her. That thing she hasn't surrendered yet... Ha ha! See? Life is just too much fun!
Ad blocker interference detected!
Wikia is a free-to-use site that makes money from advertising. We have a modified experience for viewers using ad blockers

Wikia is not accessible if you've made further modifications. Remove the custom ad blocker rule(s) and the page will load as expected.