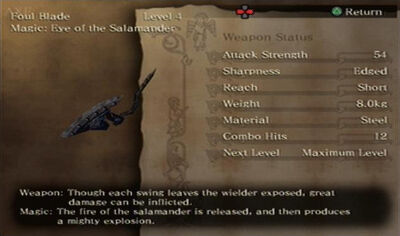 Foul Blade
 is a weapon in the 
Drakengard
.
Traits
Drakengard
Deals huge amounts of damage, but with each swing is exposed to counterattack.
Drakengard 2
Powerful and breaks the enemy's guard with easy, but hard to use.
Magic
Drakengard
Eye of the Salamander: Shoots fire at nearby enemies.
Drakengard 2
Horn of Nightmares: Awakens the spirits of the dead, who kill surrounding enemies.
Found
Drakengard
It's located in a side street towards the end of the map.

Drakengard 2
Combos
Drakengard 2
Tornado Dance: The standard seven-hit attack combination of all axes.
Dragon Deity's Fury: A short but powerful attack combination in which Urick spins and sends his axe crashing down on helpless enemies to deal heavy damage.
Shatterheaven Blast: An attack combination where Urick flips forward while smashing his axe into the ground twice.
Shattershy Blast: An attack combination where Urick sprints forward and performs an upward slash with his axe, sending his enemies in the air.
Weapon History
Level 1
An ambitious wizard sealed a salamander within this axe. It became imbued with potent fire magic and even greater destructive power.
Level 2
The salamander whispered to the magician: "Feed the axe blood...and we will become even stronger!" Bewitched by the power, the wizard began to seek victims to slay.
Level 3
"Well? Shall you give us more blood?" so whispered the axe, its appetite for flesh growing. The wizard, intoxicated by the power, had no means to resist.
Level 4
Not so long ago, the axe was discovered lying next to a withered mummy as dry as a petrified tree. Even now, the axe whispers to those drawn by the dark night. "Kill," it says...
Level 1
A twisted magician sealed a fire lizard into this axe. It would whisper words of hatred for others, and drive its owner to madness.
Level 2
A thief who stole this axe soon extended his territory to beyond the neighboring mountains, and became the chief of a large group of bandits.
Level 3
A page who acquired this axe became an infamous soldier, and was made lieutenant in an order of knights.
Level 4
In the end, however, the axe drove both the thief and the page to kill indiscriminately, and they were murdered by their own men.
Trivia
Ad blocker interference detected!
Wikia is a free-to-use site that makes money from advertising. We have a modified experience for viewers using ad blockers

Wikia is not accessible if you've made further modifications. Remove the custom ad blocker rule(s) and the page will load as expected.