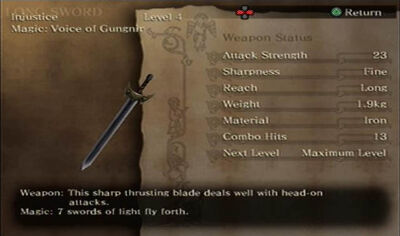 Injustice
is a weapon in the
Drakengard
.
Traits
Drakengard
Best used when thrusting. It is an excellent weapon for Dash Strike or other head-on attacks.
Drakengard 2
Excels at linear-sweep attacks.
Magic
Drakengard
Voice of Gungnir: sends forth sword of light that damages all enemies in the area.
Drakengard 2
Sonic Burst: Unleashes inner energy and revitalizes the wielder's body.
Found
Drakengard
Free Mission: The Winter Wasteland - In The Sky
Kill ALL enemies in 3:20. You may
use magic.

Drakengard 2
Combos
Drakengard 2
Dragon's Dance: A standard six-hit attack combination with which swords start.
Crouching Wolf Blast: A five-hit attack combination in which Nowe twists in the air and slams his long sword into the ground, sending a shockwave in front of him over long distances.
Phoenix Lash: This five-hit attack combination ends in a powerful downward slash into the ground that deals heavy damage to enemies.
Dragon Blast: This four-hit attack combination unleashes a flurry of wide-sweeping attacks that send enemies into the air.
Weapon History
Level 1
A sword wielded as a symbol of justice by the successive heroes of a kingdom. The church of the land imbued it with powerful magic so that any who fought for justice would be blessed.

Level 2
The first hero was a great general who smashed an invading army. He killed a score of enemy by his own hand.
Level 3
The second hero was a great general who defended his country from a mutinous rebellion. He captured each and every one of the mutineers and, by his own hand, carried out their sentence of death.
Level 4
The last hero was a general who invaded and colonized a foreign land. In this conquered country, he ordered the massacre of tens of thousands of innocent lives.
Level 1
Generation of heroes carried this sword as the symbol of freedom. To carry this sword, and to win acclaim as heroes, they had to shed much blood.
Level 2
With this sword in hand, the heroes invaded foreign lands in the name of freedom. Their soldiers looted the lands and many innocent people died.
Level 3
The sword was later stolen by a bandit and sold to a warmongering general. Subsequently, he too invaded neighboring kingdoms is the name of freedom, his soldiers looted the lands, and many innocent people died.
Level 4
After each war, the sword changed hands. To this day, no one could find a hero wielding in the name of freedom.
Ad blocker interference detected!
Wikia is a free-to-use site that makes money from advertising. We have a modified experience for viewers using ad blockers

Wikia is not accessible if you've made further modifications. Remove the custom ad blocker rule(s) and the page will load as expected.