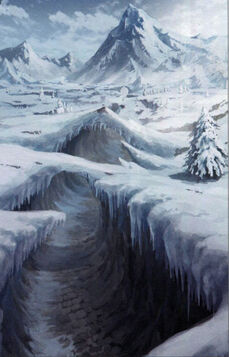 The Snowy Peak is a location in the Land of Mountains. 
Enemies
Branch A
Lost Verses
Trivia
In Branch A of Drakengard 3, Mikhail is separated from Zero in the Snowy Peaks. Upon reuniting with Zero, he tells her he had met a "strange dragon" before being cut off. It is likely that this dragon is Angelus. Considering that Michael was implied to have met both her and Legna in his previous life and in Drakengard 1.3 the red dragon is located on a snow mountain, it is possible that is the case.
Ad blocker interference detected!
Wikia is a free-to-use site that makes money from advertising. We have a modified experience for viewers using ad blockers

Wikia is not accessible if you've made further modifications. Remove the custom ad blocker rule(s) and the page will load as expected.