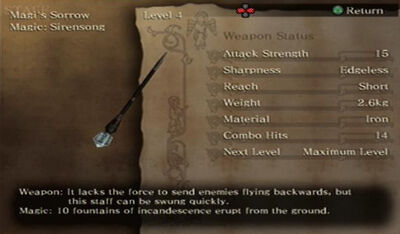 Magi's Sorrow
 is a weapon in
Drakengard
.
Traits
Drakengard
Short-range and low attack force, but can be swung quickly.
Drakengard 2
Excels at linear-sweep attacks.
Magic
Drakengard
Sirensong: It causes a fountain of incandescence to erupt from the ground.
Drakengard 2
Elemental Voice: Fireballs pursue enemies, burning them on contact.
Found
Drakengard
Free Mission: The Blue Mountains - The Highlands
Kill 1250 enemies to make the box appear.

Drakengard 2
Chapter 4, Verse 1 - Village of Stone (1650 Gold)
Combos
Drakengard 2
Dancer's Fury: The standard five-hit combination for all rods.
Thunderfire: In the five-hit linear attack combination, Manah slams her staff on the ground, sending a shockwave forward.
Tornado Blade: A slow attack combination where Manah pole vaults forward using her spear, and swings around to do heavy damage to enemies in the area.
Weapon History
Level 1
Far, far to the west was a land of magic, governed in peace by the five hundred wise magi of the Council.
Level 2
In both night and day the streets shone, and the people lived free of fear or hard labor. One day, the five-hundred-and-first magi was appointed to the Council.
Level 3
He was only a child of ten, but so great were his powers and his intelligence, that within two years and fifteen days, he was made Leader of the Council.
Level 4
A genius of magic, but also a boy of twelve. Fears assailed him, and bewildered by a life without meaning, he transformed himself into a crystal that would exist for all eternity.
Level 1
The stone set in this staff possesses the soul of a gifted young magician. An ordinary human life did not interest this boy. In search of a higher spiritual place, he summoned all of his strength and turned himself into a stone, wishing to live in this world forever.
Level 2
One day he learned that his owner was a beautiful stateswoman. He loved her so, but as time has passed she grew old and died. Even the streets and houses and trees that he loved inevitable grew old too and turned to dust.
Sorrow consumed him
Level 3
As a stone, the young magician could watch people's happiness as well as their misfortune. But as a stone, he could not share in their joy or lend them a helping hand. All he could do was mourn alone.
Level 4
Will the boy ever be released from the burden of his rashly garnered immortality?
Will time heal the wounds of an immortal to whom time is a stranger?
Or will you, perhaps, lead him into the light?
Ad blocker interference detected!
Wikia is a free-to-use site that makes money from advertising. We have a modified experience for viewers using ad blockers

Wikia is not accessible if you've made further modifications. Remove the custom ad blocker rule(s) and the page will load as expected.