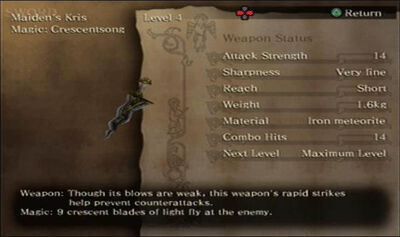 Maiden's Kris
is a weapon in the 
Drakengard
.
Traits
Drakengard
The Maiden's Kris is a short-ranged weapon with weak attacks, but it's also one of the fastest weapons.
Drakengard 2
Looks ordinary, but with some training...
Magic
Drakengard
Crescentsong: creates a crescent of light that flies at the enemy causing damage as it moves past them.
Drakengard 2
Sonic Burst: Unleashes inner energy and revitalizes the wielder's body.
Found
Drakengard
Inside one of the damaged huts.

Drakengard 2
Combos
Drakengard 2
Dragon's Dance: A standard six-hit attack combination with which swords start.
Heaven's Dragonbolt: A side-slashing, six-hit combination ending with a powerful sword thrust that sends a shockwave through the air.
Dragon Slash: A combo in which Nowe jumps into the air and thrusts his sword into the ground, creating a shockwave that affects all enemies in the area.
Dragon's Thunder: A five-hit attack combination in which Nowe performs a spinning uppercut attack, sending nearby enemies into the air to crash.
Weapon History
Level 1
When the great shrine was built, young women were chosen to be sacrifices. They plunged this kris sword into their own hearts. The blade glimmers with the souls of its young victims.
Level 2
The first sacrifice was a respected and pious believer. The pure woman was chosen to serve as the foundation stone of the new shrine.
Level 3
The second sacrifice was a kind girl of the village. Though sad to be chosen for death, she consoled herself with the knowledge that her sacrifice would help others.
Level 4
The third sacrifice was a girl who made her living as a thief. She cursed the gods angrily as her life was taken. At the moment the sword struck home, it coiled and writhed like a wounded snake.
Level 1
A short sword lay, at the corner of the altar in the shrine. During its construction, the sword was used to take the lives of sacrificial maidens, whose blood was offered to earn the blessing of the gods.
Level 2
The number of maidens sacrificed is the number of the pillars. Each of the maidens, who died against their will, cursed the sword with their last breath.
Level 3
Soon after the shrine's completion, the priests fell victim to disease and misfortune. One by one their order dwindled and the shrine was eventually abandoned in the wake of the war.
Level 4
Several hundred years later, the shrine still stood. Resting on its forgotten altar, the cursed sword remained, casting an eerie light around the murdered maidens' tomb.
Trivia
Ad blocker interference detected!
Wikia is a free-to-use site that makes money from advertising. We have a modified experience for viewers using ad blockers

Wikia is not accessible if you've made further modifications. Remove the custom ad blocker rule(s) and the page will load as expected.