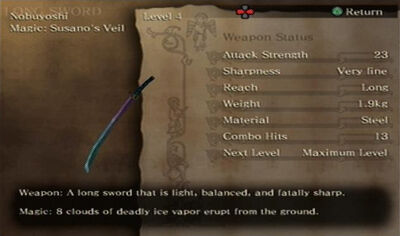 Nobuyoshi
 is a weapon in
Drakengard
.
Traits
Drakengard
Perfect combination of power and speed.
Drakengard 2
Magic
Drakengard
Susanoo's Veil: Sends out curtains of deadly ice vapor that erupts from the ground, causing heavy, paralyzing damage.
Drakengard 2
Sonic Burst: Unleashes inner energy and revitalizes the wielder's body.
Found
Drakengard
Talk to the soldier on the ground in the center of the screen TWICE.

Drakengard 2
Combos
Drakengard 2
Cyclone Dance: A standard five-hit attack combination with which long swords start.
Crouching Wolf Blast: A five-hit attack combination in which Nowe twists in the air and slams his long sword into the ground, sending a shockwave in front of him over long distances.
Phoenix Lash: This five-hit attack combination ends in a powerful downward slash into the ground that deals heavy damage to enemies.
Weapon History
Level 1
In a far-away Eastern land, there was a poet who made a living reciting songs. But he keenly felt the limits of his own skills, and so be made a pact with a ghost.
Level 2
With the power of the ghost inside him, he began to compose glorious and beautiful songs. His fame spread through the city, and before long, he was named the official Poet to the Imperial Court.
Level 3
But one day, the ghost returned to the him, and she said thus: "Your life as a genius poet is over. You shall henceforth never sing a song again."
Level 4
It was as the ghost said. The poet fell silent and no more songs came from his lips. His dream gone, he plunged this sword into his breast. It still gleams with the glistering of his blood.
Level 1
In an eastern land, a poet, who made his living singing songs, grew weary of his trade, when he realized he'd reached the limits of his talents. While contemplating what else he might do with his life, he saw a beautiful sword in the window of a pawnshop. Enchanted by its crimson blade, he bought the sword and took it home.
Level 2
That night he slept with the sword by his side. As he began to dream, an imp appeared and demanded a trade. He said that if the poet gave up his name, the imp would gave him talent in return.
Level 3
The poet gave his name to the imp without a second thought. In return, he received a beautiful body and an exquisite talent for songs overnight.
Level 4
But without a name, the beautiful poet lost more and more of his humanity as the days went by. One faithful morning, he awoke to find that he'd been turned into an imp!
Fearing to be seen in the world of men, he fled and was never seen again. He left behind the beautiful sword, now granted a name.
Trivia
This weapon was named after the composer, Nobuyoshi Sano.
This was Gaap's weapon before he was killed by the Black Dragon. A Union soldier held onto the weapon until his death in the final battle with the Empire. With his dying breath, he passed on the weapon to Caim.
Ad blocker interference detected!
Wikia is a free-to-use site that makes money from advertising. We have a modified experience for viewers using ad blockers

Wikia is not accessible if you've made further modifications. Remove the custom ad blocker rule(s) and the page will load as expected.