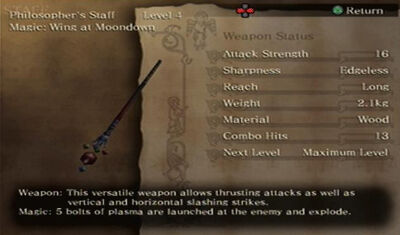 Philosopher's Staff
 is a weapon in
Drakengard
.
Traits
Drakengard
Long range staff with a powerful thrust.
Drakengard 2
Not many attack variations, but it's magic makes up for this.
Magic
Drakengard
Wing at Moondown: It shoots out bolts of plasma that will explode when it hits an enemy.
Drakengard 2
Scarlet Wings: A fireball shot into the sky that rains death.
Found
Drakengard
KILL ALL 264 goblin
leaders and red goblins in 6 MINUTES. Try summoning allies.

Drakengard 2
Chapter 4, Verse 6 - Village of Sand (2850 Gold)
Combos
Drakengard 2
Dancer's Fury: The standard five-hit combination for all rods.
Headwind Blade: A good area-of-effect attack combination where Manah hits enemies up into the air and twirls her staff with her legs in a 360-degree motion.
Weapon History
Level 1
There are a number of elements that determine one's own will. Conceptual objects, scientific facts, and empirical realities all play a role when considering any immediate question.
Level 2
Hypothetically, in the regulation of judgement or in progress toward facts concerning the question, any thinker can acquire a rough estimate, or intuition, based on personal experience.
Level 3
Alternatively, the process is under the control of reason; what selection to make, on what issue to focus, and so on. In other words, the methods of fact consideration, judgement, and reasoning.
Level 4
Only those who understand the foregoing have the power to understand thought or sense, and recognize its worth in others and in themselves, thus achieving "true and justifiable belief."
Level 1
The magician had no friend. It was not that he disliked people - quite the contrary – nor was he a bad person to be around ( though he could be a little pedantic), yet anyone who met him seemed to hurry away as soon as they could. The poor man was at a loss to Understand why.
Level 2
One day, the magician was struck by a mysterious illness. Fever high, heart pounding, limbs shaking, he could hardly walk. He tried casting spells, but when they didn't help, he took up his favorite staff and headed for the medicine man.
Level 3
After a trying journey, he explained His conditions to the medicine man. "The various symptoms afflicting my corporeal form are quite beyond the treatment of a layman unversed in the science of diagnosis - even one so familiar with the arcane –" But before he could finish, the medicine man muttered something about being busy and fled.
Level 4
Having failed to obtain any medicine, the magician's conditions worsened and he died.
If only he's realized that knowledge was not for flaunting, but for sharing in words that everyone could understand...
If only he's been aware of this simple truth... perhaps he wouldn't have died of food poisoning.
Ad blocker interference detected!
Wikia is a free-to-use site that makes money from advertising. We have a modified experience for viewers using ad blockers

Wikia is not accessible if you've made further modifications. Remove the custom ad blocker rule(s) and the page will load as expected.