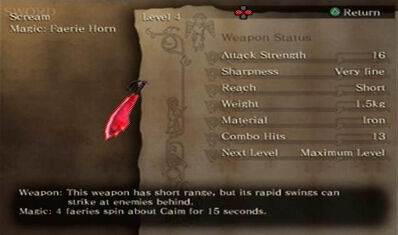 Scream
 is a weapon in the 
Drakengard
.
Traits
Drakengard
Scream has a short reach, but it's very quick and its rapid spinning motion can hit enemies behind Caim as well as in front!
Drakengard 2
Magic
Drakengard
Faerie Horn: summons faeries to spin around Caim for 10 seconds, inflicting huge amounts of damage on anything it touches.
Drakengard 2
Sonic Burst: Unleashes inner energy and revitalizes the wielder's body.
Found
Drakengard
Free Mission: The Imperial Capital - In The Sky
Kill ALL ENEMIES in 5:00 and have at
least 50% HP.

Drakengard 2
Combos
Drakengard 2
Dragon's Dance: A standard six-hit attack combination with which swords start.
Heaven's Dragonbolt: A side-slashing, six-hit combination ending with a powerful sword thrust that sends a shockwave through the air.
Dragon Slash: A combo in which Nowe jumps into the air and thrusts his sword into the ground, creating a shockwave that affects all enemies in the area.
Weapon History
Level 1
There was once a handsome young man who stole from village to village, seducing the maidens and promising his hand in marriage.
Level 2
Captivated by his charm and beauty, the young women gave him their land, their gold, their livestock, and their hearts. But at one midsummer festival, his victims met and discovered the young man's faruds.
Level 3
The incensed women vowed revenge. With the help of the King of the Faeries, they cast a cruse on the youth, dooming the suitor's still-living soul to be sealed within this sword.
Level 4
Even now, from deep within the cold steel of the blade, you can hear the pitiful screams of the young man as he laments his callous crimes.
Level 1
The young man lived to trick young girls. Gleefully he stole their hearts and wealth. But in time, the women he'd scorned banded together and sought the help of the faerie king, who sealed the young man's spirit in a sword. Trapped inside the cold blade, he came to regret his sins. Then time passed, the women grew old, and one by one they died.
Level 2
With each women's death, time, Which had been halted, returned to the man who had never known old age within the blade. As it did so, his hatred for the women who had imprisoned him grew. When the last of the women died, the curse was finally broken, and he regained his physical form.
Level 3
Once the young man's body had been restored, his desire knew no bounds. He tricked one woman after another, stole hearts and wealth – until one day, he met a beautiful young woman, and fell in love for the very first time. He gave her all his live and wealth, but she felt nothing for him, and left town with another man.
Level 4
The young woman committed then same crime as the young man and, in time, the men she's scorned tried to seal her spirit into this sword. Just as they were about to cast the sealing spell, the young man pushed his beloved out of the way and took her place inside the blade, which was turned red by his passion. There he remains.
Ad blocker interference detected!
Wikia is a free-to-use site that makes money from advertising. We have a modified experience for viewers using ad blockers

Wikia is not accessible if you've made further modifications. Remove the custom ad blocker rule(s) and the page will load as expected.