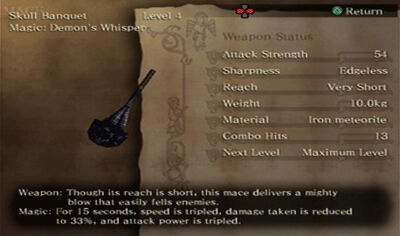 Skull Banquet
is a weapon in 
Drakengard
.
Traits
Drakengard
Many enemies can die from one hit.
Magic
Drakengard
Demon's Whisper: Reduces game speed, decreases damage taken, and increases Caim's attacks.
Found
Drakengard
The box will appear after 15
minutes of play time. It will appear on the top floor, in the room at
the south end of the eastern North/South corridor.

Weapon History
Level 1
A mace that belonged to a priest who gave his soul to demons. When his cult was still young, the demons spoke to him, commanding that he gather fresh souls.
Level 2
The priest offered sacrifice after sacrifice to the demons, crushing each victim's head in turn. Blow by vlow, the mace brought his ambitions closer to his grasp.
Level 3
As the cult grew, so did the mound of crushed skulls. But then the skulls shifted and transformed, turning into the face of a man the priest knew all too well.
Level 4
The face was the priest's own. He had paid the ultimate price, and was turned into a demon. He rose and bid farewell to his earthly body.
Ad blocker interference detected!
Wikia is a free-to-use site that makes money from advertising. We have a modified experience for viewers using ad blockers

Wikia is not accessible if you've made further modifications. Remove the custom ad blocker rule(s) and the page will load as expected.