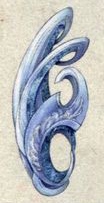 Skyward Thunder is a weapon in Drakengard 3.
Traits
Drakengard 3
A sword based on clouds formed by a heavenly horse crossing the skies.
Size: Small to Medium
Found
Drakengard 3
Branch B, Verse 3 - Shop (50400 Gold)
Combos
Drakengard 3
8-Hit Chain
3-Hit Aerial Chain
Weapon History
Level 1
One day, a young boy encountered a white horse with blue eyes by the side of a lush forest spring. Each day he passed the animal, he stopped to tend to its injured leg.
Level 2
On the fifth day, the horse allowed the boy to touch its beautiful white hair. On the tenth day, its deep blue eyes revealed a hard-won trust. Soon after, the horse vanished.
Level 3
The boy figured the leg had healed, and regretted missing hiss chance to ride the steed. Decades passed. The boy, now a withered old man, told his grandchildren of the white horse.
Level 4
Just as the man spoke of the horse, thunder boomed from the sky and he vanished. Some say they saw a man on a white horse amid the lightning, storming off to the heavens.
Ad blocker interference detected!
Wikia is a free-to-use site that makes money from advertising. We have a modified experience for viewers using ad blockers

Wikia is not accessible if you've made further modifications. Remove the custom ad blocker rule(s) and the page will load as expected.