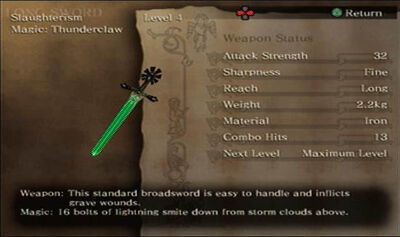 Slaughterism
 is a weapon in
Drakengard
.
Traits
Drakengard
Both easy to handle and powerful.
Drakengard 2
Well balanced and strong.
Magic
Drakengard
Thunderclaw: Releases bolts of lightning that shoot down from the clouds on helpless enemies below.
Drakengard 2
Thunderclaw: Rains down bolts of lightning, electrocuting enemies.
Found
Drakengard
Destroy ALL enemies in the 2nd
floor. The box WILL appear somewhere in the 2nd floor upon doing so.

Drakengard 2
Chapter 10, Verse 2 (Chest Item).
Combos
Drakengard 2
Cyclone Dance: A standard five-hit attack combination with which long swords start.
Crouching Wolf Blast: A five-hit attack combination in which Nowe twists in the air and slams his long sword into the ground, sending a shockwave in front of him over long distances.
Hypersonic Blast: This short three-hit attack combination ends in a sharp forward-piercing attack, breaking the guard of anyone in its path.
Dragon Blast: This four-hit attack combination unleashes a flurry of wide-sweeping attacks that send enemies into the air.
Weapon History
Level 1
This sword belonged to a demented painter who murdered innocents every night and collected their blood. With this grisly harvest, he painted masterpieces the likes of which the world had never seen.
Level 2
The painter had a dream. He dreamt that one day he would create paintings so powerful that all who viewed them would be at peace. Each day he painted feverishly, chasing his dream.
Level 3
But none cared for his work, and he began to feel the cold, uncaring stares of others. Eventually, the soul of the sensitive artist was broken.
Level 4
"Red! Crimson! Scarlet!" In a frenzy, the artist embarked on a rampage of murder and creation. It did not end until he turned the sword on himself and forged his last masterpiece.
Level 1
What has happened to me? Every time I wield this sword - every time I see blood pour out of my victim's neck – I'm overwhelmed with unspeakable joy.
Level 2
Crimson blood paints the street red. It stains my pale body scarlet. Its vivid hue is burned into my eyes and won't leave my mind... Blood, blood, blood, blood.
Level 3
The blood gushes out with a happy splash!
When it's all gone, I'm sad, so I find new flesh and tear it up! It's best when it's warm, but I like it cold too!
When it's dry, it's not so red, which isn't much fun, but it's still blood, so I still like it very, very much! Blood, blood, blood, blood !
Level 4
BlOody, bLoOdY, BLooDY, bLOod!! CRiMsOn BLOOD!! BLoODy RED!! ReD, CrImSOn, SCaRLeT!!!
Ad blocker interference detected!
Wikia is a free-to-use site that makes money from advertising. We have a modified experience for viewers using ad blockers

Wikia is not accessible if you've made further modifications. Remove the custom ad blocker rule(s) and the page will load as expected.