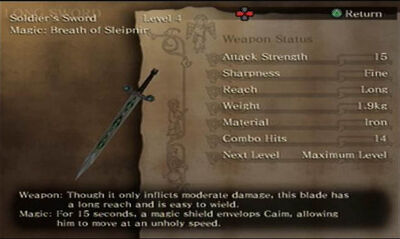 Soldier's Sword
 is a weapon in
Drakengard
.
Traits
Drakengard
Long reach and easy to wield.
Drakengard 2
With training, the wielder can master linear-sweep attacks.
Magic
Drakengard
Breath of Sleipnir: creates a magic shield that envelopes Caim, enabling him to move faster than normal.
Drakengard 2
Sonic Blow: Unleashes inner energy and sends enemies flying.
Found
Drakengard
Beat the mission in 4:10 without
magic.

Drakengard 2
Chapter 2, Verse 2 (Chest Item).
Combos
Drakengard 2
Cyclone Dance: A standard five-hit attack combination with which long swords start.
Crouching Wolf Blast: A five-hit attack combination in which Nowe twists in the air and slams his long sword into the ground, sending a shockwave in front of him over long distances.
Dragon Blast: This four-hit attack combination unleashes a flurry of wide-sweeping attacks that send enemies into the air.
Weapon History
Level 1
A sword forged using secret techniques known only to one family. The family's secret was jealously guarded, and no stranger was allowed to learn it.
Level 2
Hoping to discover how the sword was made, a soldier from an enemy kingdom joined the family. His plan was to steal the secret and return it to his own country.
Level 3
But the young soldier fell in love with the family's daughter, and he could not bear to part from her. He confessed his plot, and begged her to flee with him back to his country.
Level 4
But when the daughter heard his scheme, she murdered the soldier and then took her own life. And so was the secret of the sword kept within the family.
Level 1
This sword was forged by a tribe using a closely guarded secret technique. In order to maintain secrecy, a daughter of the tribe was forced to kill her lover, whom the elders suspected of spying for a neighboring tribe. She committed suicide soon after.
Level 2
The tribe secrecy was maintained but it came at a high price. Paranoia gradually spread, and the tribe began to punish and torture its own. They blackmailed each other and soon, all order was lost.
Level 3
The torture methods were cruel. Some died of having melted iron poured into their mouth, and others simply lost their minds from the trauma of the ordeal.
Level 4
Then all trust was lost within the tribe, they began to murder one another, and in a matter of days they had wiped themselves out. And so their technique remained a secret for all times, just as they had wished.
Ad blocker interference detected!
Wikia is a free-to-use site that makes money from advertising. We have a modified experience for viewers using ad blockers

Wikia is not accessible if you've made further modifications. Remove the custom ad blocker rule(s) and the page will load as expected.