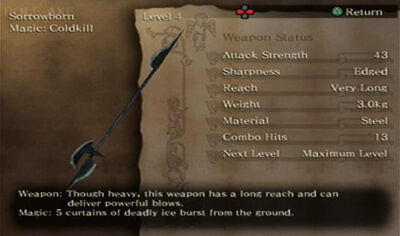 Sorrowborn
is a weapon in the
Drakengard
.
Traits
Drakengard
Heavy, but does a lot of damage. Also possesses exceptional reach.
Drakengard 2
Possesses a great variety of attacks. Very powerful.
Magic
Drakengard
Coldkill: Raises curtains of deadly ice that damage and temporarily freezes nearby enemies.
Drakengard 2
Found
Drakengard
Free Mission: The Imperial Capital - The Destroyed City
Reach the far end of the
map within 2 minutes. Just move STRAIGHT to the far end of the map with
your dragon.

Drakengard 2
Combos
Drakengard 2
Weapon History
Level 1
Once upon a time in a small village, a young boy and young girl fell in love. They boy was kind and just, and the girl was cheerful and bright.
Level 2
By the flowing stream, over the hills, and through the field they played. With a crown of day flowers and a ring of lavender, they promised themselves to each other for all eternity.
Level 3
But one day, the girl's family was forced to leave the village to look for work in the city. Though she cried and begged to stay, the young girl had to leave.
Level 4
The tears of the boy and girl fell to the ground and formed a small pond. This bardiche was crafted by the spirit who came to live in that lake, and was given on a whim to the local woodcutter.
Level 1
There was a small pond near a small village. This pond was said to have been created by the tears of young lovers torn apart.
One such lover, a boy left behind in the village when his lover's family moved away, longed to see the one he sighed for just once more
Level 2
One day a spirit of the pond appeared before the boy, and made a wager. If the boy could bring back some spiderwort that only grows in the far northwest mountains, it would bring the girl back. The boy left the village in search of the spiderwort and found a village in the northern lands. There, he also found his lost lover.
Level 3
Reunited, the two lovers shed tears of joy. Sitting together in the small village, next to the small river, they talked until the sun set and made a solemn vow to marry each other. As night fell, the boy smiled Contentedly, his dreams fulfilled. But it was only an illusion created By the treacherous fog of the forest. The boy died, alone in the darkness.
Level 4
The spirit of the pond mourned for the boy's unrequited love. It sealed the lovers' tears into this spear, praying for their happiness in the afterlife.
Ad blocker interference detected!
Wikia is a free-to-use site that makes money from advertising. We have a modified experience for viewers using ad blockers

Wikia is not accessible if you've made further modifications. Remove the custom ad blocker rule(s) and the page will load as expected.