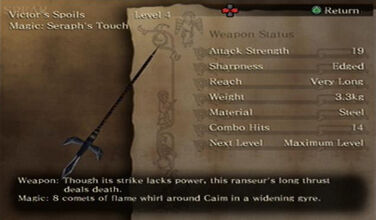 Victor's Spoils is a weapon in Drakengard and Drakengard 2.
Traits
Drakengard
Long thrust and light weight.
Drakengard 2
Short reach, but excels at linear-sweep attacks.
Magic
Drakengard
Seraph's Touch: Produces comets of flaming swirls around Caim that expand in an ever widening circle.
Drakengard 2
Seraph's Tentacles: Fireballs circle the wielder's body and kill surrounding enemies.
Found
Drakengard
Free Mission: The Silent Forest - The Elf Village.

Cross the bridge to the southern pocket of the map and kill all the enemies in that area.
Drakengard 2
Combos
Drakengard 2
White Dance: The standard five-hit attack combination for all spears.
Spirit Blast: A seven-hit attack combination in which Eris swings her spear in a figure-eight pattern and then in a vertical downward slash, blowing away enemies immediately in front of her.
Heavenstrike: In this six-hit attack combination, Eris performs wide-sweeping attacks and slashes downward to crush the enemies around her, doing a great deal of damage.
Mind Blast: A five-hit attack combination consisting of forward, piercing attacks and ending with a finishing blow that sends a shockwave hurling toward enemies in the distance.
Weapon History
Level 1
There was once a country founded by two brothers, masters of martial arts. One brother fought with strength, the other with speed. Great friends, they ruled their country in peace.
Level 2
One day, a small girl asked the two brothers an innocent question: "They say that the two of you have never fought. But if you were to have a fight, which one of you could win?"
Level 3
Both answered that he himself would be the victor. Thereupon the brothers began to argue--an argument that grew more and more heated, until they found themselves in a fight to death.
Level 4
Seeing the brother's battle, the angry gods hurled down this mighty spear and impaled them both. Awed by the gods' wrath, the people of the country enshrined the spear in their temple.
Level 1
Once, there lived two princes. One studied the martial art of bravery, and the other studied the martial art of adaptability. The two trained constantly to refine each other's skills.
Level 2
The brothers asked their master, "Which school is more effective?" The master handed a spear to the brothers.
Level 3
Smiling, he explained, "A good spear has a hard, sharp blade and a staff as flexible as a willow. What matters is that the two schools fight together, not against each other."
Level 4
The master eventually died of old age. The princes buried him with the spear that had taught them so much, cowing that they would work together for the rest of their lives. Their kingdom flourished.
Ad blocker interference detected!
Wikia is a free-to-use site that makes money from advertising. We have a modified experience for viewers using ad blockers

Wikia is not accessible if you've made further modifications. Remove the custom ad blocker rule(s) and the page will load as expected.