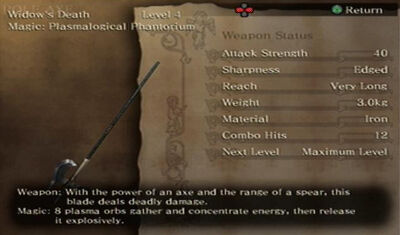 Widow's Death
is a weapon in 
Drakengard
.
Traits
Drakengard
Drakengard 2
Not very powerful, but...
Magic
Drakengard
Plasmalogical: Collects energy in plasma spheres, then releases it in a large explosion.
Drakengard 2
Bloody Vortex: Darkness overwhelms enemies.
Found
Drakengard
This chest is out in the open on
the 2nd floor. Note that you can ONLY get this upon replaying the stage
after getting Poisontongue.

Drakengard 2
Combos
Drakengard 2
Weapon History
Level 1
Queen Brunhilde, daugter of Visigoth king Athanagild, was wife to Sigebert I of Austrasia, and ruled the kingdom as regent in her son's name after the death of the king.
Level 2
Neighboring Neustria was ruled by Chilperic I and Queen Fredegunde. Seeking to expand their kingdom at the expense of their neighbour, they had Sigebert assassinated.
Level 3
This sparked a long and bloody feud between the two kingdoms. The rift between the countries deepened as the Brunhilde's and Fredegunde's relatives were murdered one by one.
Level 4
Eventually, Brunhilde was betrayed while attending peace negotiations, and was sentenced to death by Chlotar II. This is the pole axe that was used to chop off her head.
Level 1
Neustria's King Chilperich I ended the long confrontation with Astracia by agreeing to the marriage of his second son, Alfonstein, to Fonpadel, the third daughter of Sigibert I, king of Austracia.
Level 2
All was peaceful between Neustria and Austracia until Sigibert I's heir Almabar, missing since his tour of the Western Gothic land of Aunatras, returned to claim the throne.
Level 3
Almabar killed his mother, Brunhilda, then confronted King Chilperich's widow, Fredegunde, who had planned to assassinate him, and claimed that Fonpadel and Alsonstein's marriage was illegitimate. He then declared war against Fredegunde's eldest son, King Clotair II of Neustria.
Level 4
The battle began in the northern Austracian land of Vyomar. Almabar led his Austracian army to victory over the Neustrians.
Fredegunde was captured at the castle, and executed by the same axe used to behead Brunhilde.
Trivia
Ad blocker interference detected!
Wikia is a free-to-use site that makes money from advertising. We have a modified experience for viewers using ad blockers

Wikia is not accessible if you've made further modifications. Remove the custom ad blocker rule(s) and the page will load as expected.