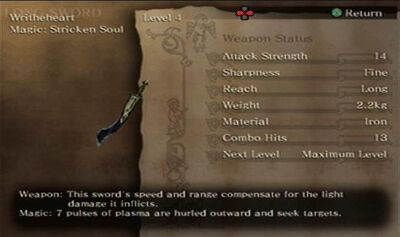 Writheheart
is a weapon in 
Drakengard
.
Traits
Drakengard
Speed and reach compensate for its relatively light damage capability.
Drakengard 2
Magic
Drakengard
Stricken Soul: It sends out pulses of plasma that emanates forward.
Drakengard 2
Sonic Burst: Unleashes inner energy and revitalizes the wielder's body.
Found
Drakengard
Let 25 minutes pass. It'll appear next to the final target.

Drakengard 2
Combos
Drakengard 2
Tornado Dance: The standard seven-hit attack combination of all axes.
Fury's Frenzy: This combination has a wide-sweeping attack.
Shatterheaven Blast: An attack combination where Urick flips forward while smashing his axe into the ground twice.
Shattersky Blast: An attack combination where Urick flips forward while smashing his axe into the ground twice.
Weapon History
Level 1
In the twisted, misshapen blade of this sword lies an evil curse. Within it is the hate of the woman who used it to slay herself--and the lover who betrayed her.
Level 2
All who take up this sword are bewitched, and against their own will they find they must slaughter others without mercy. Only by cutting their own arm can the curse be broken.
Level 3
When a victim cuts off his arm, his soul becomes a part of the blade. He is able to wield it with nothing but the power of his own thoughts.
Level 4
Only one other way exists to break the curse of the sword: If the spirit of the girl were to fall in love with the wielder, then she would lift the spell. But no man has yet won her love.
Level 1
Once, there live a girl, fair and pure. Born into a life of poverty, she was sent to work as a maid in the home of a noble family. There, she was treated like an animal. After months of hard labor and abuse, her mind and body began to fail her.
Level 2
The only one who treated the girl with any kindness was her lord's youngest son. He comforted her, and soon they began an illicit affair. The doting girl lived for the short midnight meetings, alone with her lover
Level 3
Late one evening, she made her way to the meeting place at the usual time and found her love waiting for her. But he was not alone. With him were all of his brothers and sisters. Smiling like demons, they encircled her and forced her to the ground. She lost consciousness when she caught sight of the cruel grin on her lover's face...
Level 4
The next morning, the girl limped back to the mansion. In her hands she held a beautiful sword. When she caught sight of her lover, she lunged for him without a word, and pierced his and her own heart. Steeped in their life blood, the fatal weapon took up the scorned girl's bitter hatred and had been cursed ever since.
Trivia
Ad blocker interference detected!
Wikia is a free-to-use site that makes money from advertising. We have a modified experience for viewers using ad blockers

Wikia is not accessible if you've made further modifications. Remove the custom ad blocker rule(s) and the page will load as expected.